A collective recovery of the works of thinkers and activists that emerged out of the constellation of conviviality surrounding Ivan Illich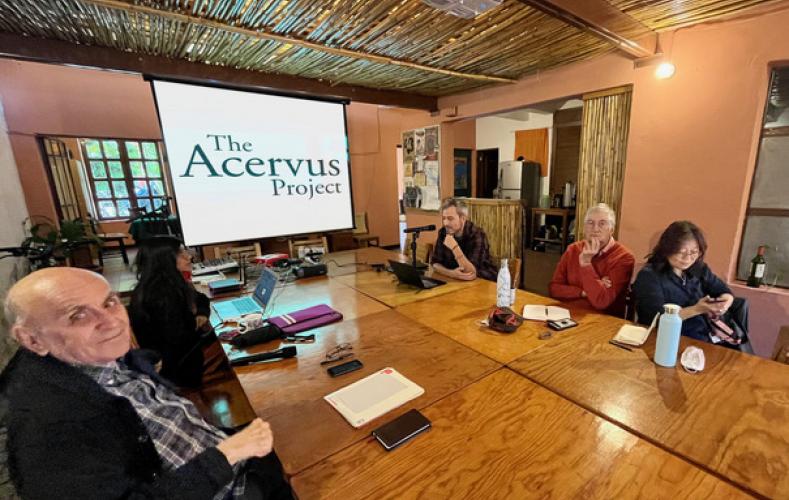 The Acervus1 Project seeks to make widely accessible the vast collection of works (monographs, interviews, talks, etc.) associated with Ivan Illich, including those of a core group of his collaborators and friends.
In constituting a complete digital library (general open access) of a constellation of thinkers and doers, the project seeks 1) to contribute to a critical understanding of the current political, technological, economic and ideological conditions now imposed on all peoples, and 2) to make a substantial contribution to discussion and debate of the innumerable possible responses and actions available (of new horizons and possibilities arising from the old).
We believe strongly that the collection of analyses, historical excavations, and treatises, of ideas and reflections, are "windows" essential for both facing and responding to the global crises of our present. As Ivan once said:
"Neither revolution nor reformation can ultimately change a society, rather you must tell a new powerful tale, one so persuasive that it sweeps away the old myths and becomes the preferred story… If you want to change a society, then you have to tell an alternative story."2
The project aims to nurture and enrich "these other narratives, for other possible worlds".
The Acervus constellation unfolds through diverse territories, linked by Illich's lifelong pilgrimage. It is clear that along the way he sowed friendships, intellectual provocations, and even conspiratio. We seek to make visible this web of relationships, some very evident and many others that are still waiting to be revealed. It is a web of thinkers, publications, friendships, institutions, and initiatives that find their nodal points in Mexico (in particular Cuernavaca, Morelos), the United States (State College, Pennsylvania and Oakland, California), Germany (Bremen) and Italy and that includes: Ivan Illich, Jean Robert, Paul Goodman, John Holt, Susan Sontag, Everett Reimer, André Gorz, Leopold Kohr, Bety Hollands and Gustavo Esteva.
The names within this constellation appear as many stars illuminating the present. Our quest—one requiring much time and collaboration—is to join together these "lights," to emulate the "table" where the possibility of conversation may erupt, in which incarnated friendship might emerge, to be together as "flames in the dark". The open access to this enormous intellectual production, through the collective effort of Acervus, will allow us to promote the autonomous creation of spaces of encounter, conviviality, conversation, reflection, creation and collective learning, as is happening today in Wiesbaden, Oaxaca and other places where "the flames continue to illuminate". We thus seek to favor face-to-face encounters, to help recover the senses and chorporality, as a way to confront the dehumanizing virtuality of the systems.
Origins and present
The project started in 2020 when Gustavo Esteva (Mexico) and Franco Augusto (Argentina) began to identify sources of interest for establishing the initial Acervus catalogue, drawing upon those that exist and that are accessible via the Internet (in English, Spanish, German and Italian) and by identifying physical repositories. At the same time, an initial compilation of digital materials began, that included annotation and indexing. In this work, what became evident is that the project would not only consist of building a digital repository to hold the vast collection of Illich-related materials, but that a collaborative solution for accessing, exploring and re-signifing a whole constellation of authors and activists who thought in a synchronous way to Ivan Illich would also be necessary. In this way, the Acervus Project began. Otras personas sumaron sus aportes en este camino. Especially, since Gustavo passed away at the beginning of 2022, the project has been driven by the strength of his inspiration and affection. More friends have come forward to collaborate with this initiative in a disinterested way and making valuable contributions.
The project is moving forward to constitute a digital tool to provide access to the original texts and new revised and updated translations in as many languages as possible. All the material will be presented in a website designed for easy access, referencing, reading in different supports/formats and re-edition in paper by independent groups. This tool is being developed using free open source software oriented to collaboration, decentralized self-publication and interaction with the contents in a diverse set of ways. This will make it possible to consolidate a reliable, legible and lasting source that will allow access to each work as well as refer to specific portions and extracts.
The tool will give acess to the articles, books, compilations, revised translations, and also other secondary materials such as interviews, audio and video recordings. All this materials will be available for non commercial purposes, promoting the creation of new paper editions and circles of reading, debate and friendship.
In 2022 and 2023 different actions are taking place in order to collect and digitalize the enourmus ammount of materials. In the upcoming months and years will continue to expand the horizons of this collective dream.
Those interested in participating or collaborating, can write to info [at] acerv.us and visit the website https://acerv.us for more updates.
1The word "Acervus" belongs to the Latin language and refers to a "collection or legacy of many things" and also "a multitude of objects of the same kind". Some possible synonyms in English includes "treasure", "stack", "cluster". See: https://en.wiktionary.org/wiki/acervus
2Quoted by Frank Viola in "Next-Wave Church & Culture" (2015)